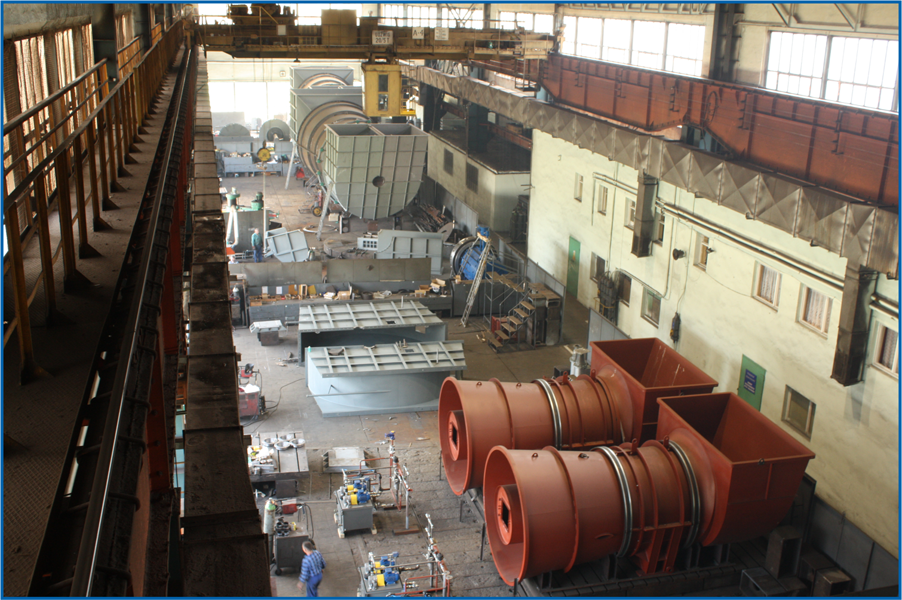 Quality control is based on many years of experience of the workers, on using modern test techniques, defect detection methods, measurements and quality evaluation not only done by ourselves but also by scientific institutions and research centres in Poland.
The implemented and maintained Quality Assurance System according to ISO 9001:2008 encloses the complete production process from the design to manufacture of industrial fans including their spare parts and welded steel structures.
Accuracy of co-mating parts is ensured by their detailed inspection at all manufacture steps. Welded joints are inspected by using NDE testing such us visual, magnetic particle, penetrant, ultrasonic or X-ray examinations. Since 1995 Fawent has been in possession of SLV certificate for welding of steel structures.
Fans and rotary sets are controlled dynamically on the test stand on our premises or in case of large units, on site after their erection.
To verify the dynamic status of the fan as well as its generated noise we use modern equipment from companies like SHENCK or NORSONIC which provide a very detailed analysis.
All our fans meet the requirements of the European Directives regarding the safety and are CE marked.
High level of design and process engineering as well as 60 years of experience guarantee best quality and reliability of our products.

BEST QUALITY OF OUR PRODUCTS IS ACHIEVED BY:
| | |
| --- | --- |
| | applying only verified solutions |
| | certified and high quality materials, accessories only from reliable suppliers, |
| | detailed control during preparation and execution processes, |
| | trial assembly of every fan before its despatch to site, |
| | tests and inspections on our own testing stands and in our laboratory, |
| | cooperation with experienced scientific centres, namely Thermal Technic Institute, Silesian University of Technology, Welding Institute in Gliwice, Foundry Engineering Institute in Cracow, TLT-KKK, BIPRON, Experimental Mine BARBARA, etc., |
| | complying with quality assurance program according to ISO 9001 which have been in use since 1998. |